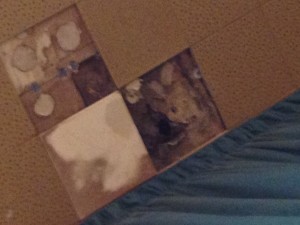 Davisville P.S. has the second highest (meaning second worst) "Facility Condition Index" score in the TDSB. Davisville's score is 169 with an estimated $12-million+ of outstanding repairs, including the boiler and foundation. According to the Provincial government, a score of 65 or higher means that it makes mores sense to replace the school building than to repair it.
The photo here depicts the visible disrepair in a classroom ceiling at the school. However, there are outstanding repairs that cannot be seen or photographed – such as the boiler and foundation. Although deemed safe and usable, the outstanding repairs cause regular inconvenience to students, teachers and staff (the caretakers at Davisville work tirelessly doing the best job they can given the state of the building!).
This year, Davisville operates at 104% utilization with 459 students. By 2019, the school is expected to operate at 142% utilization with 630 students because of new development being planned and built in the immediate neighbourhood. Davisville is located in Ward 11 just north of the Davisville subway stop on the Yonge line. The vast majority of schools in Ward 11, including all 3 secondary schools, are operating above 100% utilization.
The TDSB has been collaborating with parents, community members and other stakeholders since 2010 to explore options for redeveloping the Davisville P.S. school site as a Community Hub to address the state of disrepair and overcrowding. The TDSB submitted their cost-effective redevelopment proposal for Davisville P.S. as one of eight TDSB priority capital projects to the Ministry of Education in December 2012. It is notable that every school board in Ontario, regardless of size, was allowed to submit 8 projects.
In March 2014, the Ministry announced that TDSB schools only received funding for one project, receiving $11.9-million out of the $700 million (1.7%) allocated by the Ministry at that time. The Province did not approve the Davisville P.S. redevelopment proposal, despite an economically sound proposal that involved selling off land to create a community hub.
Determined to see the redevelopment of this site as community hub, the Davisville parent community continues to work with the TDSB, the community and other stakeholders.