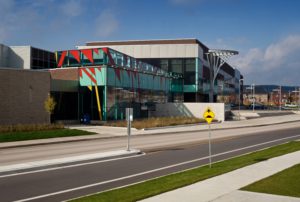 Dr. Frank J. Hayden Secondary School in Burlington, Ontario?
Built as part of a community complex, this high school opened its doors in September 2013. As one student wrote in a Burlington Gazette article, "I'm so jealous. I fell asleep in the middle of my math exam in June of 2012. Why did I fall asleep? No air conditioning. Well at Dr. Frank J. Hayden High School they won't have that problem. They have air-conditioning and I've heard it's absolutely gorgeous. The whole school is new; and new is spectacular!"
Indeed, new is spectacular! While not all Ontario students can attend brand new schools, all Ontario students ought to attend school buildings that are safe, well-maintained and that provide an environment conducive to learning. Let your MPP know that you expect their government to provide sufficient funding to all Ontario's school boards to address the $15-billion of disrepair that currently exists in Ontario's publicly funded schools.