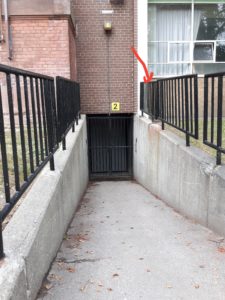 We are hearing from more and more people across the province about how the $15.9 billion of disrepair in Ontario's schools is impacting them personally.
One Ontario mother contacted us to share that her daughter had suffered both a broken wrist and a head laceration when the railing shown in this photo failed at the foundation and fell in. The railing was fixed the next day. However, that repair was one day too late and only happened in reaction to the accident.
This story certainly underscores the importance of having safe, well-maintained and healthy schools. In order to meet this objective, adequate, stable funding for school repairs and maintenance is needed from our provincial government.
This story also underscores how many repairs in schools happen reactively rather than proactively, as they should. When buildings are not proactively maintained – we see incidents like railings giving way, roofs starting to leak, boilers breaking down, all of which can cause safety issues and negatively impact classroom environments. In addition, reactive repairs are much more costly than proactive repairs.