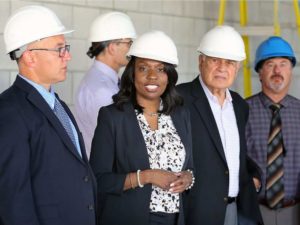 Ontario's current approach to funding education and schools was implemented 20 years ago and it simply does not work. There are examples everywhere we look: massive repair backlogs, students' learning being negatively impacted by their school conditions, staff teaching in rooms with outrageous temperatures or no windows.
Imagine being a rare student in Ontario who gets a NEW school built in their community! No leaking roofs, washrooms that have doors, no bugs, alarm/fire systems that work, no lead in the water and structurally sound. 
In Windsor, students at St. Teresa of Calcutta Catholic Elementary School had that vision. However, when the Ministry of Education had finished their funding and design calculations, and the school was built – the brand new school was too small for the student population.
Parents were confused. "It's a brand new school. You would think that they would fit all the students instead of making a portable for extra students," said Aries Cabangon, who has one of his children learning inside of a portable.
As Fix Our Schools identified in this February 2017 blog post entitled, "Ontario communities each have unique educational issues", no community in the province is being well served by the current provincial funding formula for education. With $15.9 billion of disrepair in Ontario schools, it is hard to fathom how no provincial government in the last 20 years has fixed this funding formula and repaired some of the most valuable public assets we own.