In August 2016, the Toronto District School Board (TDSB) led the way in transparency, when it released detailed information on disrepair in its schools, including both Facility Condition Index (FCI)  and the Renewal Needs Backlog. 
Feeling pressure to follow suit, the Ministry of Education released information on disrepair for all Ontario schools, confirming that over $15-Billion of disrepair existed in our publicly funded schools. 
The Ministry of Education has increased funding for school repairs significantly over the past three years. In fact, since 2014 when Fix Our Schools began, funding for school repairs has increased by $1.25-Billion/year to $1.4-billion/year – the level it always ought to have been. As a result, a lot of work has been done to schools this past year and a lot of work is continuing to happen at schools to address disrepair.
How much of the $15-Billion repair backlog has been addressed? Citizens will have no idea unless the data that the Ministry of Education released a year ago is updated each year and made public. It would be nice to know if we've even stopped the bleeding on the year-over-year increase in disrepair in the buildings where 2-million Ontario children spend their days! 
This type of accountability seems highly reasonable. Our schools certainly don't look as if everything has been fixed!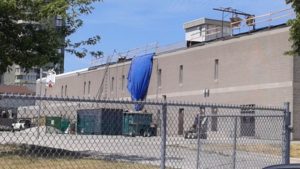 If the provincial government claims that $1.4-billion/year for school repairs is sufficient to ensure that all Ontario children attend safe, well-maintained schools then we deserve to know how this funding has actually impacted our children's schools. 
So Minister Hunter, "When can we expect to see updated data about the FCI ratings and outstanding repairs for all Ontario schools"? 
Shame on you for even making us ask. Your Ministry should, in the interest of being transparent and accountable, automatically update and issue this information every year!